Designed
to deliver
comfort and
sustainability
Every house is designed to deliver a comfortable and sustainable home.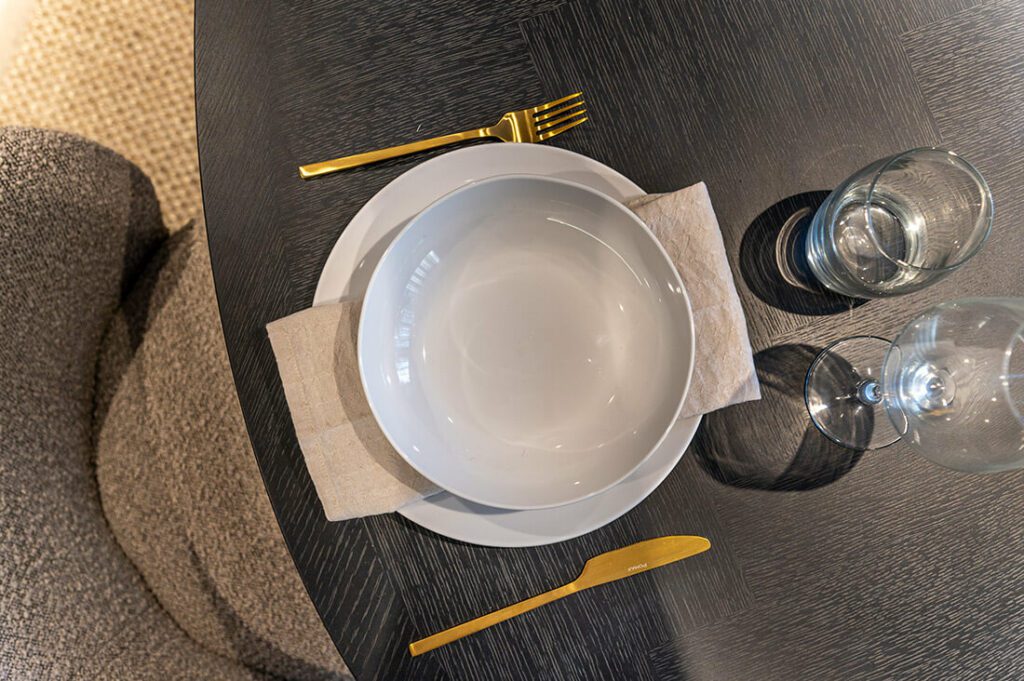 External Facade Finishes
Kilsaran Durarend self-coloured render and Kingscourt Country Manor brick to external cavity walls. Oasen (buff) bricks or westcroft (red). The use of self-coloured render and brick provides a maintenance free exterior to the homeowner.
Windows & external doors
Windows & patio doors are made from high performance German u-PVC profiles sealed with double glazed units throughout, finished with elegant satin silver inline handles.
The front doors are a four-panel door designed to enhance the home with traditional hardwood timber good looks, but without the shrinking & twisting flaws of traditional timber doors.
All windows and doors are fitted with a Yale multi point locking system.
Mechanical
Each house has been fitted with a high efficiency air to water heat pump system. This generates the space heating, supplying radiators which has multiple heating zones.
Hot water generation is also by the heat pump and the system is set up to prioritise hot water delivery. Within the house there is heat recovery ventilation and this ensures the house gets a constant supply and extract air flow that keep the space fresh and controls against humidity build up. The incoming fresh air is heated up by the outgoing discharge air flow.
Electrical
Each house has been fitted out with an extensive electrical services system to deliver power and lighting to all areas. Each house also has a fire alarm detection system fitted to each room, and each bedroom has TV and data services available for media use. Each house has been future proofed for the installation of a car charger and wireless intruder alarm systems.
Kitchen
Shaker style painted doors; Paint Colour: Purbeck Stone; Hickory Carcass; 20mm Ice Crystal Worktop
| | |
| --- | --- |
| NEFF appliances: | Ceramic hob |
| | Single oven |
| | Dishwasher |
| | Microwave |
| | Tall freezer |
| | Tall refrigerator |
| Hafele: | Canopy extractor |
Wardrobes
All bedrooms feature generous contemporary, integrated high quality, floor to ceiling wardrobes.
3 bed houses: 3 door – master bedroom 2 door – bedroom 2
4 bed houses: 3 door – master bedroom 2 door – bedrooms 2 and 3
5 bed houses: 3 door – master bedroom 2 door – bedrooms 2, 3 and 4
Internal doors
Seadec hardwood painted timber doors (2 panels with decorative rebate) with high quality Livorno Senelli door handles
Sanitary ware
White ceramic sanitary units by Sonas; Otto (or similar) Floor standing 2 drawer vanity units to main bathroom and ensuites; Otto (or similar) mirror cabinets to main bathroom and ensuites
Bathroom
IGBC Home Performance Index (HPI) Certification provides a label for quality sustainable residential development, complementing existing schemes used in the commercial sector such as BREEAM and LEED. HPI provides a high level of transparency with respect to ESG criteria driving lower investment risk. HPI is aligning with the EU Taxonomy, considered important for investors and tailored to the Irish residential sector, with worldwide recognition by GRESB, the WELL building institute and a 5-star rating from the European Commission for good practice and transferability In summary HPI offers
Superior building quality
Cheaper to run and healthier homes
Alignment with the EU Taxonomy
Reduced mortgage default risk
Opportunity to issue green bonds
Alignment with increasing financial regulatory requirements on climate-risk
Reputational benefits
For the homeowner HPI provides home buyers with the assurance that their homes have been designed and constructed with greater care to ensure low running costs, enhance occupant wellbeing and environmental impact is minimised. The HPI certification is based on 54 verifiable indicators that are divided into five categories: Environment, Economic, Health and Wellbeing, Quality Assurance and Sustainable Location. It allows several levels of achievement based on good, better and best practice. The award of a certificate is based on the overall attainment across all categories. The design team is encouraged to work from a very early stage to achieve targets. They provide the evidence requested for each of the indicators. This is then audited for compliance and if successful, certification can be awarded for either Certified @ 45% or Gold @ 65% achieved. Dun Oir will achieve HPI Certified.